Meeting validates treatment for soccer stars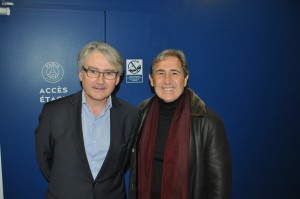 Dr. Luciano Barsanti, SBTri president meets with Dr. Éric Rolland, physician at the Paris Saint Germain French club, at the club headquarters located in the French capital, to establish a hair treatment protocol for the team stars. Dr. Luciano Barsanti presented FIFA, WADA, UEFA and COI medical departments' opinion to full anti-doping security in regard to the actives used in the players' hair treatment.
Autumn meeting of the Italian Trichology Society
Sitri will be holding on October 25, 2015 the Autumn Meeting – Zanhotel Europe- Via Cesare Boldrini 11 with doctors Andrea Marliani, Prof. Gaetano Agostinacchio and doctor Gianluigi Antognini.
Enrollment: vanni.andrea@gmail.com or Tel: (39) 333 8349750 – Doctor Andrea Vanni